Entertainment, Sports, Fashion, Gossip, Music... GENERAL. Follow me on twitter:@Abdul_Ent Email: abdulkuku1111@gmail.com
Saturday, 19 December 2015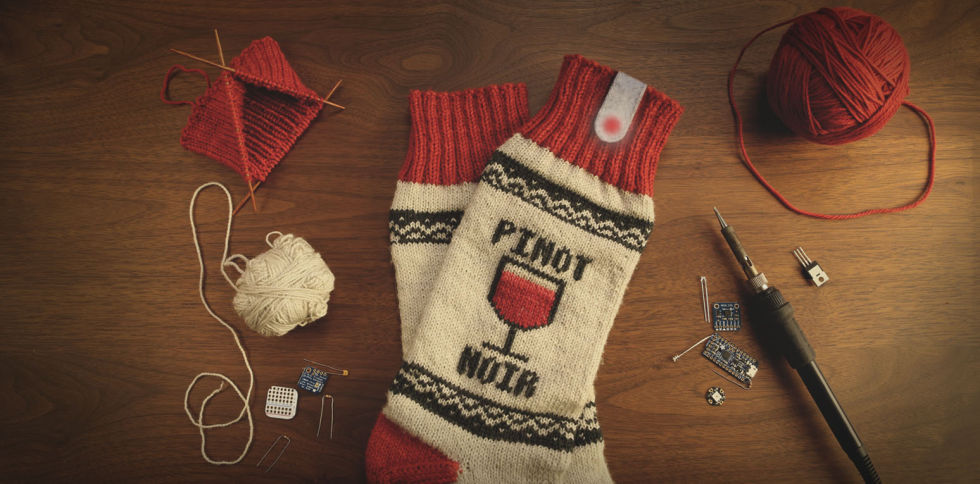 What do you get if you combine an Arduino, knitting, a fair amount of DIY chutzpah, and a genetic and/or epigenetic predisposition towards falling asleep while watching TV? Netflix socks, of course.
A few months ago, some enterprising types at Netflix created The Switch—essentially a single button to dim the lights, silence your mobile phone, order takeaway, and start streaming your favourite show or film. Netflix shared the schematics and parts list for The Switch so that you could make your own.
Thursday, 17 December 2015
Here is a list of the predominantly Muslim countries teaming up to fight ISIS. Bahrain, Bangladesh, Benin, Chad, Comoros, Djibouti, Egypt, Gabon, Guinea, Ivory Coast, Jordan, Kuwait, Lebanon, Libya, Malaysia, Maldives, Mali, Mauritania, Morocco, Niger, Nigeria, Pakistan, Palestine, Qatar, Saudi Arabia, Senegal, Sierra Leone, Somalia, Sudan, Togo.
A list of 2600 unclaimed dormant bank accounts was made public yesterday Wednesday, December 16, by Swiss Bankers Association which contains over 2,600 accounts and 80 safe deposit boxes.
The total holding in these accounts is estimated at about 44 million Swiss franc ($44.6 million). The online list reveals that Swiss banks currently have around CHF44 million ($44.6 million) of unclaimed assets held in their vaults. In addition, some 80 safe-deposit boxes containing unknown sums of valuables have been listed as dormant.
Chelsea owner Roman Abramovich held a meeting today with the club's Chairman Bruce Buck, directors Marina Granovskaia and Eugene Tenenbaum and technical director Michael Emenalo to decide the fate of manager Jose Mourinho. They sacked him some minutes ago.
A dismissed Inspector of Police, 

Afoke Adetolani

, 58, who paraded himself as a Deputy Superintendent of Police (DSP), has been apprehended by operatives attached to the X-Squad team of the Lagos State Police Command.
It was gathered that Adetolani who was serving with the Traffic Division of the Force for extortion, somehow procured the uniforms of a more senior officer and has been using same to intimidate and extort money from unsuspecting members of the public until the long arm of the law caught up with him on November, 25, 2015.
A woman who claims to have been repeatedly assaulted by a foreign national working for the United Nations has written to the world body demanding justice.
Speaking from a hospital bed at the Nairobi Women's Hospital in Hurlingham, 26-year-old Ruth Gakii called for the world body to "come out and condemn" the violence she alleges was meted out by her Papua New Guinea partner and father of her three-year-old son.
A man she claims works as a legal officer for the United Nations. "That's why you can't sit down and reason with him. He just likes to sue everybody."
There has been a report that some suspected loyal thugs of the impeached speaker , Momoh Jimoh attacked the speaker of the Kogi State House of Assembly, Godwin Osiyi, and three other principal officers of the House on Wednesday.
The thugs were said to have stormed the Riverton Hotel, Lokoja, where the Osiyi group were having their meeting.
A police officer who was wrongly dismissed from the Nigeria Police Force is set to receive over 21 years salaries and promotion in one full swept following the decision of the Nigerian Senate today. This follows a petition presented by Senator Solomon Adeola (Lagos West) on behalf of one of his constituents, Sgt. Amos Olaniyan on October 6, 2015, the Senate ordered the reinstatement, promotion and payment of all dues to Sgt Olaniyan who was verbally suspended from the Nigerian Police Force 21 years ago.
The Peoples Democratic Party (PDP) says the denial by President Muhammadu Buhari on the alleged benefiting from funds relating to the arms deal scandal, and the consequent controversy trailing it underscores the need for a more neutral and transparent body like an independent National Truth Commission to examine all issues relating to handling of security votes and campaign funding without interferences from the government. Azealia Banks was reportedly arrested for allegedly assaulting a female security guard on Wednesday (Dec. 16) night. E! News confirmed the news with The New York Police Department, who told the website that the Harlem-born artist was escorted out of club Up&Down in the Meatpacking District "when she became verbally abusive and began to push the victim and bit victim on the breast causing swelling and redness."
Eyewitnesses tell E! that Banks became agitated after security didn't recognize her when she went down to a enter a private party in the club, which led to an altercation. At one point Azealia allegedly bit the female bouncer on the breast while being led out of the club.
A 55-year-old man,

 Elder Moses Ajuwa

, has told a divorce court that his wife's body odour has made it impossible for him to continue sleeping with her and wanted the court to dissolve his three-year-old marriage to his 30-year-old wife, 

Hauwa

, on that account.
Apart from the smelly body odour, Elder Ajuwa also told the Grade A Customary Court sitting in Lagos State that his wife is also lazy and has failed to fulfil her obligations as a married woman and a disgrace to womanhood.
There was a shock assassination attempt on the life of popular Nollywood actor Harry B Anywanwu. Sources close to Anywanwu also confirmed the ugly development said, the actor was on his way back from a movie location last Friday (December 11, 2015) when he met a blockade mounted by suspected Cultists who were jubilating in pretence just to accomplish their evil plot.
Wednesday, 9 December 2015
In Lagos, the police have arrested a car dealer, Alhaji Amao Abdulhakeem, for allegedly obtaining items worth N4.6 million allegedly.
Abdulhakeem obtained four fairly-used Toyota Camry cars from one Emeka Ejike and failed to pay him. He also obtained 34 tyres and 12 car batteries from Ejike, whose shop is located in the Lekki area of Lagos. All the items were valued at N4.6m, while the transaction took place in November, 2014.
Shock rippled through Ejigbo Magistrates' court in Lagos State, today as a 22-year-old man who was arrested and charged before the court jumped off the court's storey building to evade trial.
The suspect, Tomiwa Bolaji, had already been beaten severely by the court security guards and had been attempting to escape through the adjoining street close to the court premises.
The Senator representing Lagos West Senatorial District, Senator Solomon Adeola has commended the Lagos State Governor, Mr. Akinwunmi Ambode for the huge investment in provision of security in Lagos state as only a secure environment is conducive to economic and social development.

Reacting to the recently commissioned Police helicopters, patrol boats, vehicles and other security gadgets by the governor of the state, Senator Adeola stated that the status of Lagos State as a mega city makes it imperative that its security must receive special attention from all tiers of government stressing that there is need for the Federal Government to further compliment the efforts of Ambode in provision of security in view of the status of the state as the former federal capital and the economic nerve centre of the nation.