Entertainment, Sports, Fashion, Gossip, Music... GENERAL. Follow me on twitter:@Abdul_Ent Email: abdulkuku1111@gmail.com
Friday, 28 February 2014
Abductors of Inengite Nitabai, the septuagenarian cousin of President Goodluck Jonathan, have requested a whooping N500m ransom to set him free.
The outrageous demand, it was learnt, had unsettled members of Nitabai's family who were said to be running from pillar to post to find a solution to the matter.
A security source told our correspondent that the abductors threatened to kill their victim if the family failed to produce the money.
Thursday, 27 February 2014
A 14-year-old boy has become the youngest ever person to be charged with molesting their own mother, UK.
The crime is alleged to have taken place at their family home in Blackpool where the teen lives with his two brothers.
Kanye West has always claimed he's a God like genius but with rumours that he's going to cast fiancée Kim Kardashian in his first feature film, we can't help but wonder if that's really a smart move.
The rapper, producer and on-off fashion designer has now set his sights on conquering the silver screen, and in his quest for cinematic glory Kanye's going to try and make the future Mrs West a film star too.
Video of Justin Bieber made at a South Florida police station after his January arrest shows him walking unsteadily during a sobriety test.
The police have dropped the N130m fraud charges it instituted against a former Deputy Governor of Lagos State, Alhaja Sinatu Ojikutu, before a Federal High Court, Lagos.
Justice Mohammed Yunusa, in a short ruling, struck out the charges on Wednesday upon an application by the prosecuting counsel, Mr. Effiong Asuquo, for the withdrawal of the charges against Ojikutu.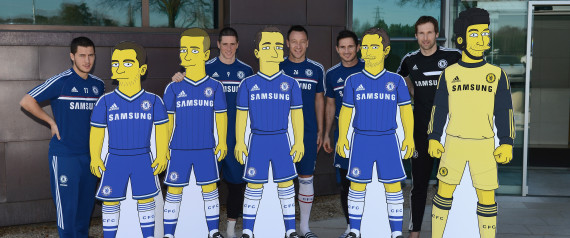 Chelsea

could put the spring in Springfield after they announced a deal with iconic TV series The Simpsons.
Twentieth Century Fox will create Chelsea-branded merchandise featuring Homer, Marge, Bart, Lisa and Maggie, while other characters could feature.
Former world champion boxer Antonio Cermeno was kidnapped and killed in his native Venezuela, police said Tuesday.
Cermeno, a WBA super bantamweight and featherweight champion in the 1990s, was found shot to death Tuesday on a road in the central state of Miranda, local police chief Eliseo Guzman said.
An Ohio man is expected to survive despite being shot 14 times.
Ricardo Meadows, 35, is in critical condition after being hit in the arms, legs and genitals but doctors said he is likely to pull through.
Justice R.M Aikawa of the Federal High Court, Port Harcourt on Wednesday February 26, 2014 convicted and sentenced one Ibiba Jack to thirty five years imprisonment without an option of fine.
For all the fellas who may not be the "best" texters or most romantically savvy,
introducing BroApp
, a new smartphone application for men that promises to take care of that problem for you.
An Ikeja High Court on Thursday fixed March 3 for its ruling on an application filed by Fred Ajudua. 
Ajudua, in the application, is asking the court to quash the N1 billion fraud charge preferred against him by the Economic and Financial Crimes Commission (EFCC).
Justice Oluwatoyin Ipaye fixed the date after hearing arguments from both the EFCC and Ajudua's counsel on whether the charge should be dismissed.
A suspected stowaway was found frozen to death in the undercarriage of a South African Airline passenger jet at Dulles Airport in Washington, after the plane landed from Senegal.
The man, identified only as Chris Dikeh, with a Nigerian Passport and in his mid-30s, is believed to have frozen in temperatures around -60°C.
Two female students of the Osun State University (UniOsun) were allegedly raped at the weekend while several male students were brutalised by hoodlums who stormed their hostels located outside the Osogbo Main Campus of the university.
Ever wanted to know what $1million cash looks like? Well wonder no more as American basketball star Lance Stephenson has laid it on the table.
In a bizarre post on his Instagram account the Indiana Pacers shooting guard posed with the cash laid out on a table in the team's locker room. 
Prince Bartholomew Obitube, a Nigerian studying in a private college, has been sentenced to death by a High Court in Malaysia for trafficking 9,189 gramme  of cannabis, also know as marijuana.