Ebunoluwa Adesanya, a final year student of mass communication at Babcock University, has been diagnosed with lupus nephritis, a disease that affects the kidneys.
Adesanya was diagnosed with the life-threatening condition in November 2016 — three months to her final examinations at the university.
Lupus nephritis is an inflammation of the kidney caused by systemic lupus erythematous (SLE) also called lupus.
With lupus, the body's immune system targets its own body tissues. When the kidneys are inflamed, they cannot function normally and can leak protein, leading to kidney failure.
According to Nkanu Egbe, a friend of Adesanya, she fell ill regularly while in school and received treatment at the school's clinic.
Before and after picture of Adesanya
Adeyosola Idada, her mother, had to withdraw her from school when she learnt of the diagnosis.
Adesanya needs £100,000 (N48 million) for a kidney transplant in the UK, as both of her kidneys have failed.
"In Ebun's case, both her kidneys have failed. She has to go for dialysis three times a week," Egbe said.
"This is financially stressful as each session at LASUTH, Ikeja, costs as high as N80,000.
"Furthermore, she now requires a kidney transplant as the doctors say both her kidneys are damaged and need replacement. The procedure at the Hammersmith Hospital, London, may cost as much as £100,000.
"Because of the high cost of the treatment, an appeal for humanitarian assistance has gone out to well-meaning members of the public to help save Ebun's life."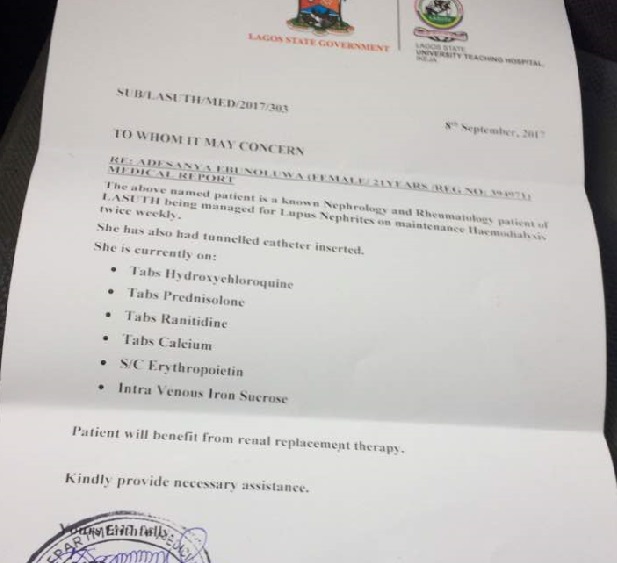 Idada said her daughter experiences severe pain, adding that the transplant needs to be done within six months.
"Since the diagnosis, she has had to drop out of school and ever since, we have been battling to keep her on her feet. because that lupus makes her very very uncomfortable and we have to go to the hospital," Idada said.
"Even as of today, she is in the hospital, in the dialysis room. She is on dialysis because the doctors tried but they couldn't save her kidney.
"Yesterday morning, overnight, she had a terrible headache, she wept throughout the night.
"We appeal to Nigerians to give us financial assistance to get Ebun back on her feet and so she could return to school and complete her education."
Donations can be made to the following bank details:
Ebunoluwa Adesanya – 3066604362, First Bank
Ebunoluwa Adesanya – 0054294803, Diamond Bank
Get more stories like this on
Twitter
&
Facebook