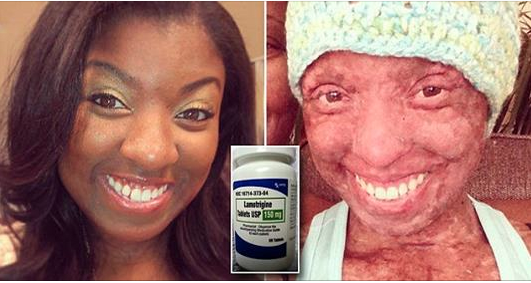 A 24-year-old student nearly went blind, lost up to a staggering 90 per cent of her skin and was put into a medically-induced coma after suffering a rare allergic reaction to a common anti-seizure drug.
Khaliah Shaw was a public health graduate student at Georgia College and State University when she was reportedly diagnosed with bipolar disorder and prescribed the medication, Lamotrigine, in 2013.
Within a month of taking the drug, she had developed a rash on her face, while the skin on her lips had started to peel off. Although she visited her local ER, she was initially diagnosed with the flu.
But two days later, Miss Shaw woke up in excruciating pain, with the skin on her face, neck, back and chest falling off and her mouth covered in blisters. She returned to the ER in Oconee County.
However, medics were not sure what was wrong with her, according to Miss Shaw's blog, which she started writing after her ordeal. They reportedly isolated her, fearing she had an infectious disease.
After the student's condition deteriorated, she was rushed to The Medical Center of Central Georgia in Macon, where a dermatologist diagnosed her with Stevens-Johnson Syndrome (SJS), Fox reported.
SJS is a rare disorder that begins with flu-like symptoms, which Miss Shaw believes led medics to initially mistake her illness for the flu. It is typically a reaction to a medication, and can prove fatal.
During her first night in hospital, Miss Shaw's skin continued to fall off, leaving her with huge, open wounds. Doctors reportedly decided to put her in a medically-induced coma to alleviate her pain.
'They put me into a medically-induced coma, because they knew it was going to be really painful,' Miss Shaw said, adding that she was then taken 90 miles to Atlanta's Grady Hospital's Burns Unit.
When the student woke up five weeks later, she was shocked to find she could not see and was breathing via a tracheotomy. She had lost all of her hair and her fingernails had all fallen off.
She was reportedly later told she had also lost a whopping 80 to 90 per cent of her skin.
Although Miss Shaw was, as she describes it, 'essentially almost blind', her vision gradually started coming back and she saw herself for the first time since suffering the devastating allergic reaction.
To her horror, she was bald, with pink and white patchy skin instead of brown. 'It was a shock to see that... all my hair had come off. I didn't have any fingernails,' Miss Shaw told the news station.
In subsequent days, Miss Shaw had to have her eyes treated by an opthamologist to limit any long-term damage, she writes on her blog.
SJS can cause extensive tissue damage resulting in blindness.
She also started to suffer from seizures, which 'were a result of being heavily sedated for a long period of time', her blog states. Doctors arranged for her to undertake physical and occupational therapy.
Seven weeks after being transferred to the specialist burn center, Miss Shaw was able to go home.
Now, 13 months on, the brave former student continues to see a variety of doctors, specialists, and therapists on a weekly basis. She has moved back in with her mother and still cannot see properly.
'I would love to have my vision back,' said Miss Shaw, who has put her graduate studies on hold and is forced to wear sunglasses, even when indoors, because any bright light is painful to her.
She is also 'terrified' to take any more medication to manage her bipolar disorder - which causes shifts in mood, energy and activity levels - fearing that it could spark another severe allergic reaction.
In one blog post, she wrote: 'It still haunts me to think about everything they did to me while I was in hospital. I can still hear the IV machines beeping. I never want to end up in the burn unit EVER again.'
Miss Shaw, who first fell ill in December 2013, added: 'There are still things I avoid to this day because it reminds me of that time. And no amount of discomfort is worth getting SJS again. NONE.'
But despite her struggles, Miss Shaw's hair is starting to grow back and her blogging is helping her to make sense of her ordeal and return to her old 'awesome, hilarious, sassy, smart and articulate' self.
Lamotrigina, the generic of the drug Lamictal, is approved in the US for the maintenance of bipolar disorder. The medication is also approved for the treatment of partial seizures in epileptic patients.
It features a black box warning about deadly skin reactions, such as SJS, which is a form of Toxic Epidermal Necrolysis. The syndrome is also linked to other on-steroid anti-inflammatory drugs.
These include Allopurinol, Phenytoin, Carbamazepine and anticonvulsants.