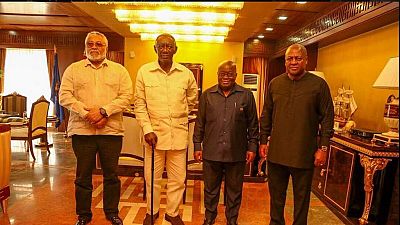 Ghana's president, Nana Addo Dankwa Akufo-Addo, on Tuesday released pictures showing him and all three of his predecessors via his social media handles.
According to him, the purpose for inviting the three Johns was to seek their views on some measures that his government was about to undertake.
General purpose of meeting
''On Tuesday, April 18, 2017, I invited the three former Presidents of the Republic, their Excellencies, Jerry John Rawlings, John Agyekum Kufuor and John Dramani Mahama to a meeting at the Presidency.
''The purpose of the meeting was to seek their views on some governance-enhancing measures my administration intends to take,'' his post read.
Civil Society and Social Media reactions
Civil society groups in the country have lauded the efforts of President Akufo-Addo, Ghanaians on social media have also hailed the move as 'historic and a show of Ghana's maturing democracy.'
Ghana under the fourth Republic and a history of Johns
Since the return to multi-party democracy in 1992, the West African country has had five presidents – Akufo-Addo being the fifth. The only other John missing from Tuesday's meeting was John Evans Atta Mills who died in 2012.
Jerry John Rawlings led the current main opposition National Democratic Congress (

NDC

) to win two elections between 1992 and the year 2000.
He handed over power peacefully to John Agyekum Kufuor of the ruling New Patriotic Party (

NPP

), Kufuor also won two consecutive elections between 2000 and 2008.
In 2008, the

NDC

staged a comeback with the election of John Evans Atta Mills who beat President Akufo-Addo after the vote went into a run-off. Upon Mills' death, his vice at the time John Dramani Mahama completed his term and won his (Mahama's) first term in 2012.
Four years on, Mahama became the first president under the current constitution to fail to get a second straight term in office whiles Akufo-Addo became the first person without the English name John to make it to the presidency.