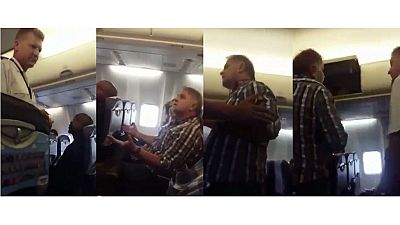 South Africa had its share of airline controversy after a white passenger was removed from a domestic airline after allegedly hurling racist insults at a black passenger.
The pilot of FlySafair flight boarding for departure at Cape Town to Port Elizabeth last Friday decided to remove the passenger who allegedly used a derogatory word against another passenger, threatened him, adding: "you people are all the same."
The incident was captured on video and posted widely on social media with people commending the pilot and other passengers for the decision taken.
In the video, other passengers are seen informing the pilot of the incident after he was alerted by the cabin crew.
"Sir, you are legally obligated to keep us safe. I do not feel safe going into the air with this kind of aggression," a voice was heard complaining to the pilot.
Others corroborated the story and the pilot asked the man to disembark resulting in a loud applause by the passengers.
FlySafair confirmed the incident and expressed readiness to co-operate with investigation by authorities as required, local travel news media Traveller 24 reported.
"It is the obligation of the Captain of an aircraft to make the final call regarding his view on any potential threats on board the aircraft … In accordance with this, we would like to commend the Captain for following Civil Aviation Safety procedures," the airline spokesperson Kirby Gordon said.
— MissUnderstood (@usisi_owhite) 11 April 2017