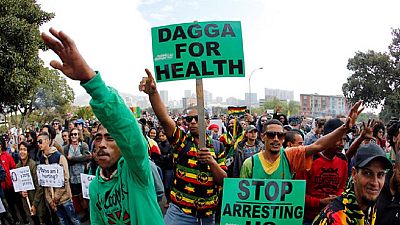 Some houses in South Africa were set ablaze on Monday as racial tension flared in a town of Coligny North west province after a court granted bail to two white farmers who were accused of killing a teenage black boy.
Pieter Doorewaard, 26, and Phillip Schutte, 34, are accused of killing Matlhomola Jonas Mosweu, 16, on April 20.
Doorewaard and Schutte are accused of throwing the teenager off a moving vehicle after catching him stealing sunflowers.
The Magistrate, Magaola Faso said the farmers were granted bail because the witness had not yet confirmed whether Mosweu was the teenager thrown off the vehicle.
"It is indeed correct that the death of the deceased has in fact divided the community of Coligny along racial lines as evident from the two petitions that were submitted in this court," Faso said.
Members of the community, including a large group of pupils, protested outside the court where suspects were granted bail of R5,000 ($370) each.
"We respect the court ruling to grant the accused bail, but we are disappointed," Prosecutor, Khetheni Mudau said.
Businesses were looted last month and four houses, three trucks and a tractor were burnt in protests sparked by the boy's death.
Police started firing rubber bullets at protesters who threw stones at police. It is not immediately clear how many protesters were involved.
The two farmers will return to court for trial on June 26.