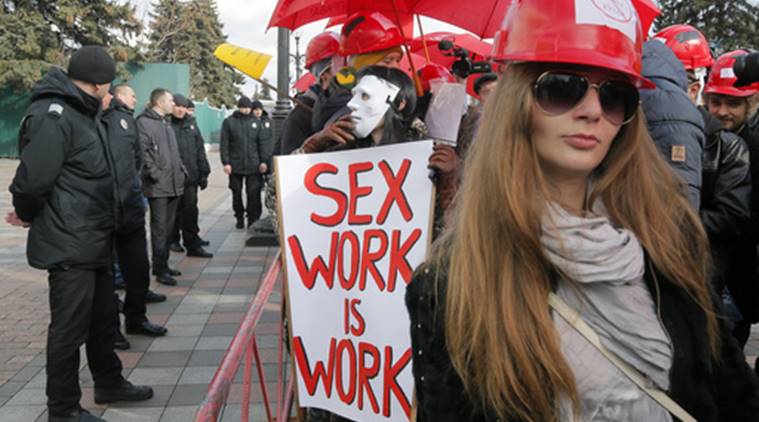 Dozens of sex workers and human rights campaigners gathered in Kiev on Friday demanding the legalization of prostitution in Ukraine.
Some 50 activists holding red umbrellas and wearing red plastic helmets staged the first-ever march through the capital with the goal of revoking a legal ban on sex work in the post-Soviet state.
Wearing white plastic masks, the protesters held placards reading "Sex work is work", "We stand for
decriminalization
of sex work", and "My work is my choice".
"It is the first time that we have had the courage to come out and say that we exist,"

Yuliya Dorokhova

of

Legalife

, a Ukrainian non-governmental organisation for sex workers, said standing in front of the parliament building.
"We ask the authorities to lift the punishment for sex work. We would like to pay taxes rather than fines,"

she added.
According to human rights campaigners, there are some 80,000 sex workers in Ukraine who feel vulnerable -- particularly to police abuse due to their profession being outside the law.
Being illegal in Ukraine, prostitution is punishable by a fine up to 255 hryvnias ($9/euros).
"We want our state to protect us. If a woman was able to sell sex legally, she would pay money to the state budget,"

Dorokhova said.
"The women who work in existing brothels have to hand police their her earnings as 'protection' money,"

she added.
Due to the legal ban on prostitution, Ukraine's police are often accused of demanding money from sex workers to avoid fines and even beating them.
"We often suffer from fines and even physical abuse (by the police),"

sex worker

Valya

, 30, told AFP wearing a white plastic mask to hid her face.