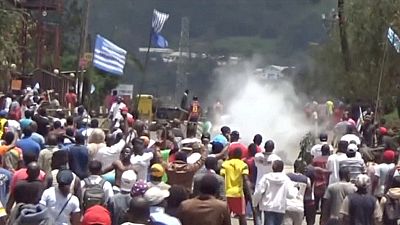 Cameroonians in the English-speaking regions are campaigning for the release of a five-month pregnant woman and her husband who were reportedly arrested by the security forces during the government repression on October 1.
The arrest of Sola Yundze and her husband Sakwe Frank from their home in Limbe in the South-West Region has generated the #FreeSola campaign on social media despite the internet blockade over the past three days.
According to political activist Kah Walla, the couple is under detention at the Buea Prison in the capital of the region.
The government deployed the military and police officers to the two Anglophone regions two days ahead of a planned protest on October 1 to declare the two region independent of the country.
Amnesty International said 17 people were killed during the repression on the said date while over 200 were arrested.
Among the dead is the Deputy Mayor of Ndu, Martin Yembe, local media report despite warning by the government not to air views of the embittered regions demanding secession.
Internet connection was restored on Tuesday but the blockade on social media still persists.
"This Monday, October 2, access to key messaging services such as Whatsapp or Facebook Messenger is still suspended in the Northwest and South-West regions. Users who have access to these services are obliged to use virtual private networks (VPNs)," said Paul Joel Kamtchang, Deputy Secretary General of the Cameroon Journalists' Union.
The government denied shutting down internet connection.
Curfews have been imposed in the Anglophone regions and the people are on lock down.
Get more stories like this on
Twitter
&
Facebook