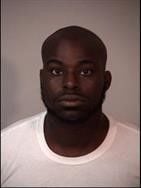 A man who backhanded his attorney after receiving a 30-year prison sentence Monday in Stafford County Circuit Court is facing additional time.
Jamhal Scott Blanks, 29, was charged Thursday with assault and battery. The charge is a misdemeanor that carries a maximum penalty of a year in jail.
The charge stems from Blanks' reaction Monday after Judge Charles Sharp sentenced him to 65 years, with all but 30 years suspended, for holding a man hostage in the victim's home for five days last year and forcing the 63-year-old victim to make multiple ATM withdrawals.
After hearing his sentence, Blanks made a comment to the judge then abruptly delivered a backhand slap to the face of his attorney, Tim Barbrow. Court bailiffs swarmed on Blanks and hauled him out of the courtroom.
Sharp's sentence was above the recommended state sentencing guidelines, which called for a maximum penalty of just over 27 years in prison. Sharp said in court records that he went above the guidelines because the abduction "took place over several days and involved torture."
The evidence showed that Blanks beat the victim during the ordeal and tied him up at night. A woman who accompanied Blanks during the crime, Brianna Archie, was ordered to serve five years in prison.
Blanks and the victim had met through a Craigslist ad and had sexual relations a number of times last year. But the victim said Blanks was not welcome when he showed up at his residence Sept. 24, 2016, and forced his way inside.
Barbrow this week officially withdrew as Blanks' attorney. Attorney John Mell was appointed to assist Blanks with any possible post-conviction motions.
In addition to the assault charge, sources said prosecutors are looking into the possibility of having some of the 35 years that Sharp suspended reinstated. There is a contention that Blanks violated his good-behavior requirement by striking Barbrow in the courtroom, even though it happened just seconds after he received his sentence.
Source:
Fredericksburg.com
Get more stories like this on
Twitter
&
Facebook