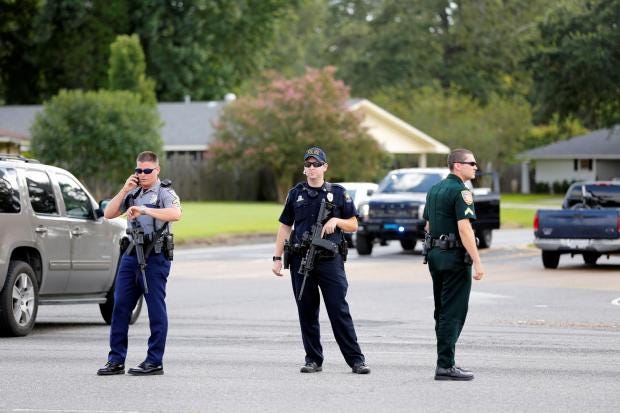 Three police officers were shot dead and several others injured after a man dressed in black carrying an assault rifle opened fire in Baton Route, Louisiana. The incident happened near the Old Hammond area in Baton Rouge.
"One suspect is dead, law enforcement believes two others may be at large," the East Baton Rouge Sheriff's Office said.
One man was reported be walking down the side of a road carrying an assault rifle. Witnesses reported him to police, and when the police arrived on the scene the shootout occurred.
"Seven officers were shot and at least three officers are dead," a police source told CNN.
Parish Kip Holden, the mayor-president of East Baton Rouge told CNN that he believed three officers may have been killed in the attack.
"There is still an active scene. They are investigating. Right now we are trying to get our arms around everything. It's just been one thing after another," Mr Holden said.
"They are in extremely bad shape," WAFB television said of the officers.
Don Coppola, the Baton Rouge Police spokesman Sgt has confirmed that several officers were shot by gunfire.
The scene is now "contained," he said, but police are asking everyone to stay out of the area.
William Daniel, the city-parish's chief administrative officer says two Baton Rouge officers have died.
Video footage on American television networks showed police cars rushing to the scene as civilian cars retreated, while gun shots could be heard ringing out.
Casey Rayborn Hicks, East Baton Rouge Sheriff's Office spokeswoman tells The Advocate, the Baton Rouge news outlet that the area is still an active scene.
The area around the police headquarters and and the Airline Highway is shut down from Goodwood Boulevard to Old Hammond Highway and from Old Hammond to Drusilla Drive. About 20 police officers wearing bulletproof vests are near the scene and a helicopter is flying overhead.
Baton Rouge has been a flashpoint of racial tensions in recent weeks, seeing regular standoffs between police and community members following the killing of Alton Sterling, a young black man, by a police officer. That was followed by the killing of five police officers in Dallas a few days after the killing.
Protest organisers in Baton Rouge had said they were going to delay protests until after the funeral of Mr Sterling.
Kip Holden, the Baton Rouge mayor said: "Common sense needs to prevail, we need to be the great city that this is."
The Telegraph spoke to an employee of the McDonalds restaurant in Old Hammond area, where the shooting happened. She said the shooting occurred "literally one block" from the restaurant and that they are on lockdown.
"We are locked in the building, and have no idea what is happening," she said, without giving her name. "The police have not come in. They told everyone to stay here, and that they would be in touch when it was over."
A source in the area told the Telegraph that police have locked down the area and "are doing searches".
The person, who asked not to be identified, said he believed they were "searching for the shooter".
US presidential candidate Donald Trump reacted to news of the killing in a Facebook post.
"We grieve for the officers killed in Baton Rouge today. How many law enforcement and people have to die because of a lack of leadership in our country?" he wrote.
"We demand law and order."